Discover a unique shipping container for generator housing conversion – introducing the Genertainer.
Shipping container generator housing conversion is gaining in popularity.
So perhaps it's time to learn how the Genertainer can make your conversion more efficient.
In fact, it's not just generator enclosures that the Genertainer can be modified into, but also other types of plant housing too.
The Genertainer helps you save money and maximise container lifespan.
This special type of unit produced by Adaptainer offers unique advantages over standard freight container conversion.
The specially engineered high cube Genertainer is a container that includes cost saving features for generator and plant housing.
These cost saving features minimise your capital outlay and maximise the lifespan of the conversion.
Learn more by contacting us today.
Get more information and a quote
Why containers converted into generator housing might be the ideal solution for you.
Containers can be converted to include the main features you may need for plant or generator enclosures.
Including:
Acoustic lining.
Attenuators for noise control.
Ventilators installed for air inlet and extraction.
Personnel access doors with panic release buttons.
Hatches for fuel inlets.
Exhaust outlets.
Emergency stop buttons.
Gland plates for cable outlet points.
And there's some other great advantages too.
Durability is ensured with the correct paint preparation, even in harsh environments such as salt water atmospheres.
Plus, bulkhead walls provide plenum chambers and steel floors give bunded facilities to trap leakages.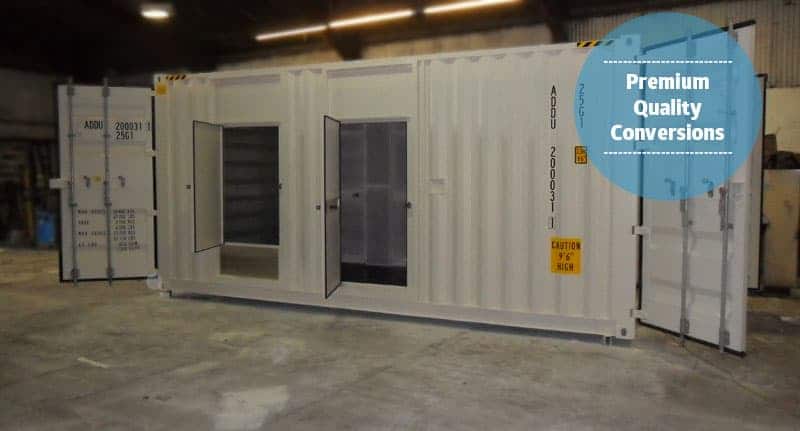 Another advantage is that converted units can be recertified to allow worldwide transportation on existing intermodal infrastructure,  such as container vessels, trucks and trains.
This represents obvious cost benefits.
Get a quality conversion, exactly the way you want it.
Custom conversion to customer design and specification means your requirements can be fully met.
Contact us today to learn more about using shipping containers for generator housing/enclosures.