Get a new shipping container with premium features at an affordable price.
Takes Just 30 Seconds to Request Delivered Price Online, or Call 03301 220222
–
Our new container sales division works in conjunction with Adaptainer's used container trading unit and is able to supply you with newly manufactured shipping containers, also known as ISO containers, for delivery within the UK or globally.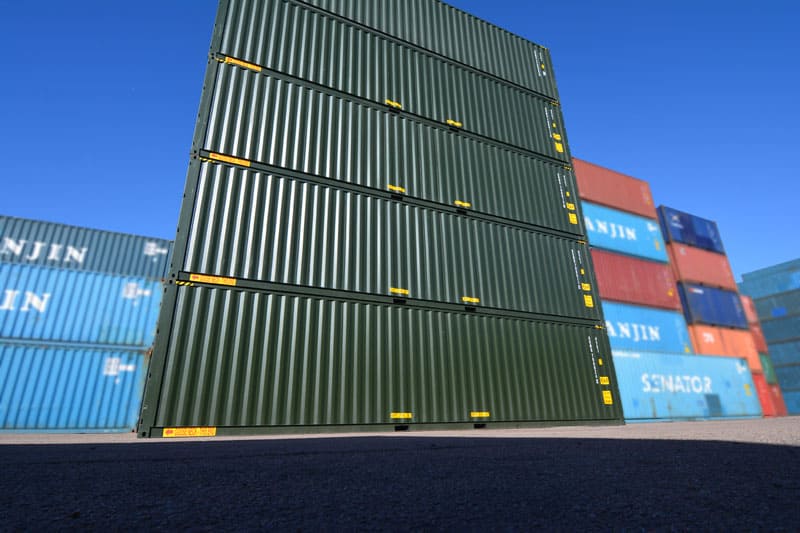 New containers, sometimes referred to as one trip containers or ex-factory are units that have made a single journey from the country of manufacture and are conveniently available for purchase or hire from our network of depots
Once shipped to the UK new containers are very often purchased for the purpose of long term storage use, however should you intend the container to be deployed for shipping cargo we can ensure that the unit has the required CSC plates to meet shipping regulations.
'One trip' new container sales.
New containers are made more economical for you to buy since the boxes are shipped once to the UK with a full load of cargo from the country of manufacture rather than being transported empty.
This efficient container transportation method means that customers pay less for a new container than would have been possible otherwise.
ISO containers: All sizes including 8ft, 10ft, 20ft, 40ft and 45ft units
We can help with any standard or special container equipment requirements you have. Adaptainer have a vast amount of experience in innovating and developing containerized equipment products such as helping to pioneer Europe's first 45ft container.
All new container sizes from 8ft to 45ft are available for sale or hire. Together with standard ISO containers we provide a range of other specialist container types.
Standard Sizes

High Cubes

Collapsible ISO Tank Containers

Open Tops

Open Side

Swap Body

Insulated

Refrigerated Containers
Standard ISO units are made from corrugated steel and are manufactured in sizes ranging from 8ft to 45ft in length. Some of the more typical ISO sizes purchased are 10ft, 20ft and 40ft although we can supply you with any container dimensions needed.
Each new container has an individual BIC code displayed on the exterior which enables identification and tracking.
Standard or customised units

ISO container construction to any configuration

CSC plates provided if intended use includes shipping cargo

Delivery within the UK and worldwide.

Contact us today to learn more about our new containers for sale and hire.
Customer comments
I was impressed and everyone was very helpful.