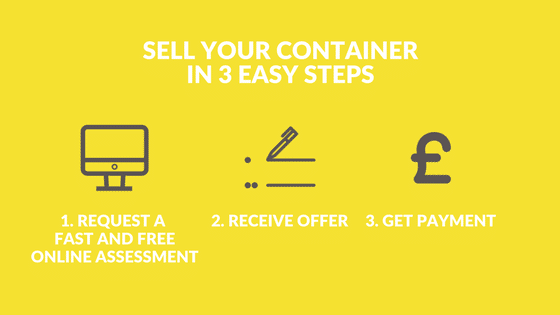 The Easy Way to Sell Shipping Containers
Trying to find the right place to sell shipping containers can be a challenge.
You want the process to be simple so you can offload your containers in a hassle-free way. The problem is you don't want this convenience to result in an unfair sale price for your asset.
But what if you could quickly and easily sell your container at a competitive price, and even have it collected. In just a few simple steps.
Introducing, Adaptainer.
Where selling a used shipping container you own has never been easier
How to Sell Your Shipping Container to Adaptainer
1. Request a fast and FREE assessment using the online form below
2. Receive a fair offer price
3. Agree on a convenient collection date and receive your payment
We buy shipping containers of all types including:
Used 8ft, 10ft, 16ft, 20ft, 40ft and 40ft sizes
Cargo worthy containers
Store containers
Converted shipping containers
Office conversions
Refrigerated containers
Insulated containers
And more
No minimum or maximum purchase quantity
So now you can quickly sell shipping containers and receive fast payment, whether it's just a single used unit or several hundred.
Quick Valuation Offer
Depots Nationwide
Fast Collection
Fair Prices
Your Questions Answered
How do I know I will be offered a fair price?
Our mission is always to give you a competitive price for your containers.
We do this by taking into account the condition of your container. That means you'll receive a fair offer which will be particular to the quality of your container asset.
We are one of the leading buyers of containers in the UK and have a track record of agreeing on fair prices, as you'll discover.
All valuations we give you are fast, free and without obligation.
Can you collect from my location?
Yes. We collect containers from locations throughout the UK.
Our network of hauliers make collecting your containers a simple process.
Once a sale has been agreed we will arrange collection on a convenient date.
Do you buy containers in any condition?
Yes. Our buyers are open to all enquiries.
Once we hear from you, we will make a fast and competitive offer.
Do you also sell shipping containers?
Yes, we have a whole range of containers for sale — including new and used options.
Do you buy back containers I purchase from you?
Yes, we are always interested in buying back containers we have previously sold to you.
What do I do next?
To receive a competitive offer for the containers you want to sell, just complete the form below. It takes less than 30 seconds.
Or call 01473 281818
Our container buying team will then reply with a competitive offer and answer any questions you have.
Get a FREE Instant Online Container Assessment Now
Complete Form Below, or call 01473 281818