Buy new or used containers, including 10ft, 20ft, 40ft and 45ft sizes, at prices you'll love.
We stock new and second hand containers at depots throughout the UK, so delivery is fast and affordable
Takes Just 30 Seconds to Request Delivered Price Online, or Call 03301 220222
–
Huge choice of container sale stock. Easily get what you need.
Standard shipping containers for sale
Buy high cube containers (extra foot of height available on 40ft units)
Purchase full side access (entire side opens together with standard container doors)
Tunnel container for sale (doors at both ends)
Buy refrigerated containers
Insulated containers for purchase
Open top sale stock (allows for the transport of oversized cargo by having an open top)
Flat rack sales
We don't like being beaten on price.
No one likes to feel like they could have got a better deal elsewhere so we don't like being beaten on price. Buying from us means you can save money.
Guaranteed to be delivered wind and watertight.
Having to return a faulty container is likely something you would want to avoid having to do.
That's why we take the extra step of inspecting your container before it leaves the depot to ensure it is 100% wind and watertight
Over 50,000 containers delivered.
There's no substitute for experience when it comes to helping to make sure your purchase goes smoothly.
Join thousands of customers who we have helped buy a great quality container with hassle free delivery.
Nationwide container depots.
Why pay for something to be delivered from a far-away location, our nationwide UK container sale depots mean lower transport costs for you – and a faster delivery.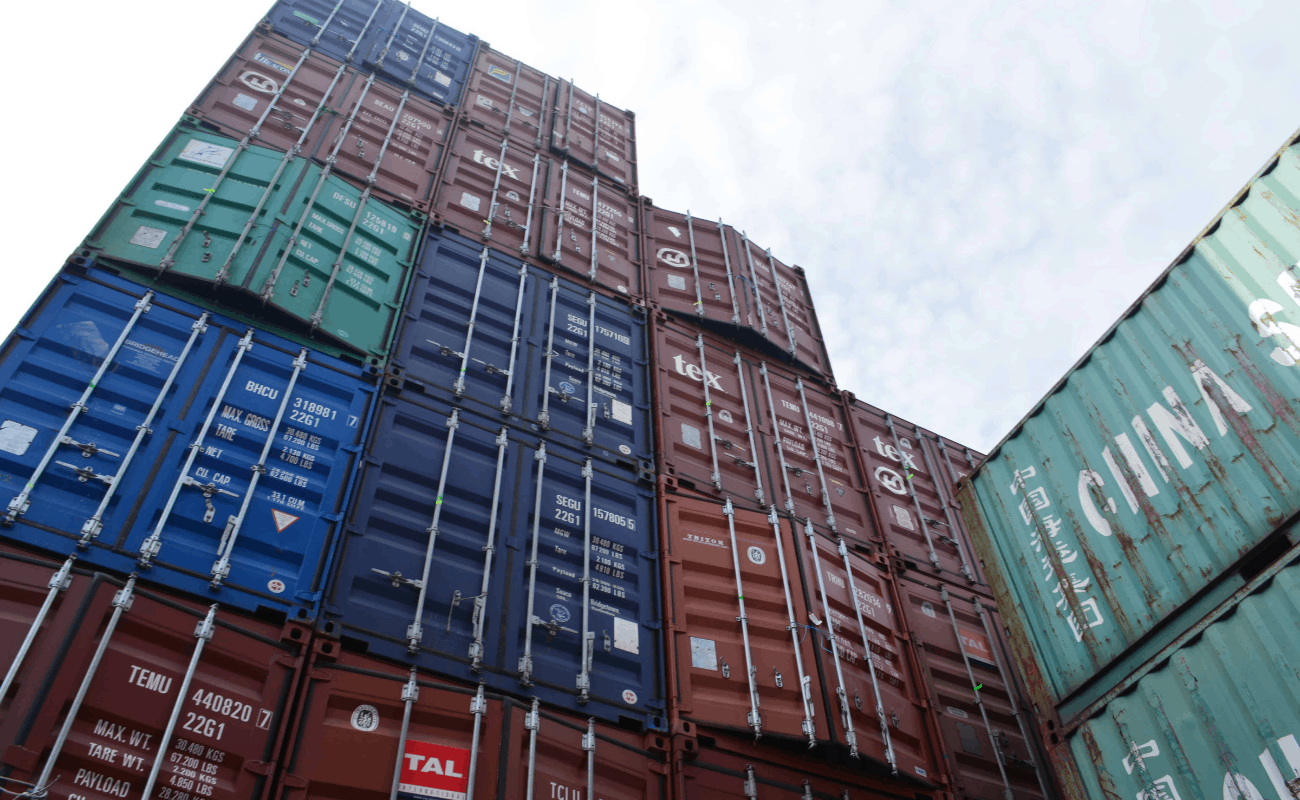 10 frequently asked questions.
Where are your depots located?
We have depots spread strategically throughout the UK which means we can deliver your container from a location close to you.
Providing you with a local area service means you save on delivery.
Can I see the container before I buy?
Yes absolutely.
We would welcome you to visit any of our depots.
Alternatively if it's easier for you we would be happy to email you example photos of stock.
Since all of our containers for sale are guaranteed to be delivered in wind and watertight condition you can feel comfortable with your purchase – even when distance buying.
Which colours are available?
Popular shipping container colours are green and blue but we also have other colours available.
You may also wish to take advantage of our container repainting service by supplying us with a RAL colour code, so you get exactly the shade you want.
How old is the container?
Adaptainer supply new build containers as well as second-hand units.
If buying a used container you can generally expect the age to be 10-12+ years, which is the point that shipping lines retire their containers.
10 years is young when you consider the average lifespan of a container – so you can expect plenty of use from it.

Do you buy containers back?
Yes we certainly do.
Container prices move up and down in the market based on factors such as supply and demand and dollar exchange rates.
Contact us when you are ready to sell and we will endeavour to offer a competitive price – plus even arrange collection.
Can you convert my container?
Yes absolutely. In fact as our company name suggests Adaptainer specialise in container conversions.
Over the years we've modified containers for all kinds of uses including offices, workshops, school classrooms, retail shops and many more applications.
What are the dimensions of the container?
For a full list of container dimensions scroll down the page or give us a call.
Do you also hire containers?
Yes we do.
Maybe you decide that hiring a container is a better option for you, if so we can help you with that.
Alternatively another option is that you may wish to buy the container and then resell it when you are finished.
We do buy back containers at competitive prices, as well as there being a very healthy market independently for used containers generally.
Is there a guarantee?
We guarantee any container you buy from us will be delivered in wind and watertight condition unless specified otherwise.
Before containers are released to you they are inspected at our depot to give you extra peace of mind.
How long before my container is delivered?
As soon as we receive payment we will contact you to arrange a convenient date for you to receive delivery.
Assuming no conversion or modification work is required delivery can usually be made in as little as 3 to 4 working days – sometimes sooner.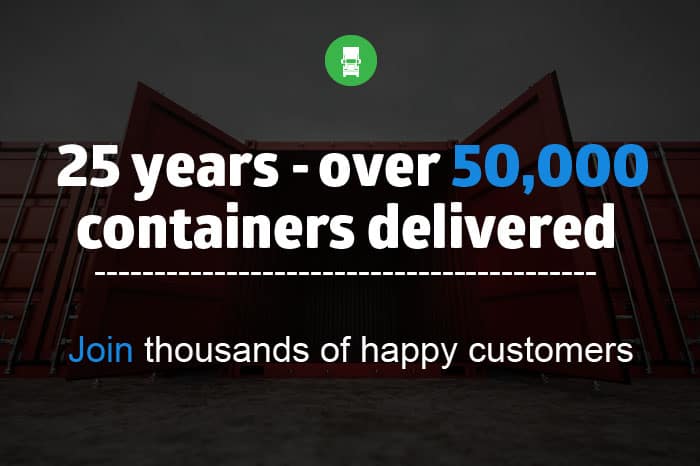 ——————————————————————
Shipping Container Buyer: Quick Guide.
Shipping cargo
Not all used containers for sale in the marketplace are of a high enough quality to pass the seaworthy test.
Shipping lines insist on the container having a valid CSC plate before it can be loaded on board.
The plate which is located on the rear door proves that your container has passed the necessary tests for it to be considered a sea worthy.
So when you're buying a container make sure to ask if it's cargo worthy.
Container Storage
Self-storage using a container is an affordable, easy and flexible way to store.
While it's not important to make sure the container has a cargo worthy certificate you will probably still want a box of a certain standard so it lasts for a while – and protects your property.
Buying a quality box will also help you get the best resale value if you want to dispose of it later.
Conversion
Let's say you want to buy used container and convert it into an office or retail space for example.
Converting a container put's strain on the box, so using a unit that is structurally sound is vital.
Buying the best quality container possible within your budget is definitely recommended for conversions.
Shipping Container Dimensions.
| Type | 8ft Standard | 10ft Standard | 20ft Standard | 40ft Standard |
| --- | --- | --- | --- | --- |
| External Length | 8ft | 9ft 10½" | 19ft 10½" | 40ft |
| External Width | 7ft 2" | 8ft | 8ft | 8ft |
| External Height | 8ft 6" | 8ft 6" | 8ft 6" | 8ft 6" |
| Internal Length | 7ft 4" | 9ft 4" | 19ft 4" | 39ft 4" |
| Internal Width | 6ft 11" | 7ft 8" | 7ft 8" | 7ft 8" |
| Internal Height | 6ft 9" | 7ft 10" | 7ft 10" | 7ft 10" |
| Door Opening Width | 6ft 8" | 7ft 8" | 7ft 8" | 7ft 8" |
| Door Opening Height | 6ft 4" | 7ft 5" | 7ft 5" | 7ft 5" |
| Internal Cubic Capacity | Ask for details | Ask for details | 1,170 cu feet | 2,386 cu feet |
| Tare Weight | Ask for details | Ask for details | 2,060 kg | 3,510 kg |
| Net Load Weight | Ask for details | Ask for details | 28,420 kg | 26,970 kg |
| Maximum Gross Weight | Ask for details | Ask for details | 30,480 kg | 30,480 kg |
| Floor Space | 58 ft² | 72 ft² | 150 sq ft | 305 sq ft |
* Exact dimensions may vary depending on the manufacturer
Should I buy new or used?
Either way you are assured of the quality.
OPTION 1: New build, one trip.
We have new build containers manufactured in large volume as well as selling thousands of used containers each year. This volume means you have plenty of new and used container choice – as well as access to great value pricing. Check our prices for both new and used purchase options.
Our generous microns of paint help postpone advanced rust on your container.
We have our containers built at factories that have the highest standards of engineering so you are purchasing a container of high quality that will last. New build container manufacturing process:
Made from high grade corten steel
Generous microns of paint are used in production which helps to postpone advanced rust on your container.
Vents are added to strategic locations on the container so that airflow can more easily move through your box – helping to reduce the threat of condensation.
Obsessive quality control means you can expect the highest standards of manufacture.
Want to see how an Adaptainer container is built? Watch this video.
OPTION 2: Used containers.
The pre-delivery inspection gives you extra peace of mind.
Before a container is released to you it has been inspected by quality control staff. This means you can be assured of the container quality before it arrives on your site. The quality control process includes inspecting the container doors to make sure they open and close properly – and making sure your container is 100% wind and watertight.
Our standard used containers vs. grade A.
It's like choosing between good or excellent.
Grade A containers are often newer than standard shipping containers and therefore cosmetically tend to look better. If the container cosmetics are important to you we also offer a repainting service as well as a great selection of new containers. Whether you buy a standard, Grade A or new build container we guarantee to be deliver the unit in wind and watertight condition, this guarantee gives you extra comfort in your purchase. Containers are built from corten steel so that means they are built to last. Shipping lines typically use a container for 10-12 years before it becomes available for you to buy. But the actual average lifespan of a container is usually far beyond this length of time, so you can generally expect plenty of use from the box therafter.
Container conversion services that match your imagination.
They were made for shipping but who says you can't use them for something else. Converting your container to include features such as personnel doors, windows, lights, shelving racks and many other add on's are all possible at our nationwide depots. In fact the list of possible uses for your container is almost unlimited. We actively convert containers into a wide range of applications and can help you with almost any idea, here are some examples:
Offices
Document storage facility
Coffee shop
Living accommodation
School classroom
Pop-up shop
Generator container
Workshop
Ticket office
Mobile kitchen
Chemical store
Aircraft refuelling tank
Art gallery
Shipping containers are an economical way to create these applications. They also give you more flexibility since they can easily be moved.
Accessorise your container, all in one easy transaction.
We aim to offer you a one-stop shop for all your container accessories. You might wish to add extra security to your container by purchasing a robust padlock or lockbox. Perhaps you want to help protect your stored goods from condensation, add shelves or be able to safely stack your containers on top of each other. We will take of it all. Easy.
Anti-condensation options – if you need them.
We understand that reducing the risk of condensation is important for you. That's why we pioneered the placement of vents on both the front and rear of our new build containers. This means that airflow can pass through even if the units are positioned next to each other, or against some other object blocking the container side walls. We can also offer you a whole range of other anti-condensation solutions such as Grafotherm (a moisture absorbing paint), moisture absorb poles, and fully insulated containers. Anti-condensation options:
Vents (front and rear which allow airflow even when placed next to other containers)
Grafotherm (Moisture absorbing paint)
Moisture absorb poles
Insulated containers
Lockbox. Feel safer about the security of your property.
If security is important to you then we recommend having a lockbox fitted to your container doors. What is a lockbox? Simply put it's a steel box welded to the container door and houses your padlock. This means it is harder for someone to gain unauthorised access to your padlock. For a very small investment this feature provides you with some extra peace of mind. More example container accessories:
Shelving
Hooks
Doors
Windows
Electrical fittings
Logo printing and fitting
Twistlocks (for safely stacking containers)
& More
Re-painting.
We have a wide range of stock for you choose from so if you have a colour preference please just let us know. Green and blue are popular colours. But if you have something more specific in mind we can also arrange for your container to be repainted in any colour.
Managed deliveries mean you can rely on us to make it easy and hassle free.
Over the years Adaptainer have delivered thousands of containers so even if your site access is complex – we can help you find a way to make it happen. Unless specified otherwise the delivery quotes we give include delivery and crane lift off – meaning your container is placed just where you want it subject to site access and ground conditions. For more complex delivery sites please ask us about our range of vehicle types and services. Our 'can do' attitude means we will do everything possible to get your container delivered in the right condition at the right time.
Need to move your container somewhere else in the world?
When buying a shipping container from us we can also help you arrange shipment to any worldwide port, if needed.
Freight shipping service providers include:
Account Manager.
No need to worry about having to explain something all over again to someone new. You get a single point of contact, an experienced and professional person who is dedicated to helping make sure your purchase is easy and hassle free.
Professional after sales service.
When you buy from us it's the start of our relationship with you, not the end. We'll be there for you after you have made your purchase to provide any assistance we can.
'Everything is possible' attitude.
If you have requests or questions that are not straight forward – you need someone who has a 'can do' attitude to help. Our helpful and friendly staff will go out of their way to help you.