37 cargo container ship travel resources on the web to help you plan the trip of a lifetime.
Adaptainer are known for supplying shipping containers for sale and hire, but we wanted to digress a little in this post and share some inside knowledge about a very adventurous and economical way to see the world – on board a cargo container ship!
For some, being on a cargo container ship is a hard working job that takes them away from their home and families for months at a time – for others it has become an opportunity to take the trip of a life time.
So what if you wanted to make your next holiday a trip on board a working freighter en route to far away destinations such Singapore or Australia, where would you start to look?
If you are an adventurous type with an appetite for a holiday with a difference then read away because I am going to give you some helpful tips and resources which will help you make your dream a reality.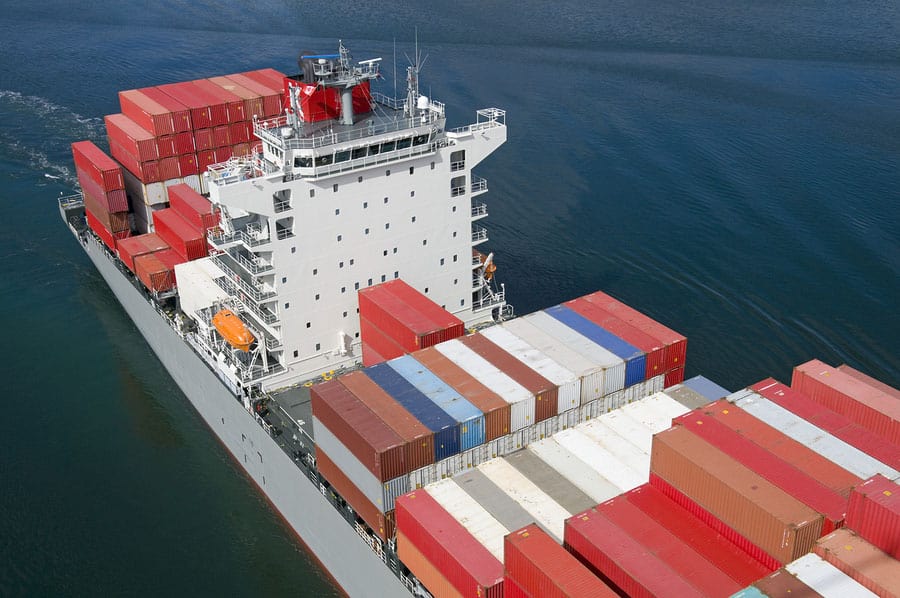 Life on board a cargo container ship, what's it like?
My first experience on board a container ship was about 30 years ago as a young boy, but I still remember it very vividly! The cargo ship was sailing from the UK to Sweden and we were the only people on board, plus the crew which was made up of Scandinavians and a mix of other nationalities.
If you have never travelled on a freight container ship then you may be wondering just how harsh the conditions really are. Don't worry, many travellers are pleasantly surprised by the comfort on board.
Your accommodation
You will be allocated a single or double cabin which you chose at the time of booking. The accommodation is most often an outside cabin which means that you will have a view of the sea, and probably a few freight containers too.
Passenger cabins are usually quite spacious and will include an en-suite toilet and shower. Some rooms even include a TV and CD/Radio player. All fresh linen and towels are provided by your steward who will also make your bed daily.
Other facilities on your ship may include a small bar, swimming pool and even a gym. I bet you weren't expecting that!
Your meals
Food is likely to be good on-board and you can expect 3 freshly prepared meals each day. Your food is served in the officer's mess so you will probably hear some good sea stories at meal times too. If you have an appetite In between meals then just head over to the snack area where light food such as sandwiches can be easily picked up.
Enjoying your alone time
One of the big attractions for travellers drawn to cargo ship voyages is the slow pace of life on board compared to feature packed cruise liners which offer up 24 hour entertainment to the thousands of passengers on board.
Maritime law states that if there are more than 12 passengers on board then a doctor must be present on the ship. For this reason there is usually only a handful of passengers on board a cargo ship and plenty of opportunity for you to enjoy quiet reflective moments.
But where can I go and how much does it cost?
Glad you asked. There is a huge array of local European and exotic far away destinations you can choose from. 
Pricing starts from as little as around £700pp for a sailing to Sweden from the UK via Germany and Denmark. If you are travelling alone the pricing becomes especially reasonable since there is no single person supplement to pay generally.
Examples routes and prices:
Southampton (UK) to Limmasol (Cyprus): Southampton (UK), Salerno (Italy), Piraeus (Greece), Izmir (Turkey), Alexandria (Egypt), Limassol (Cyprus).
Duration: 13 days
Cost:  Around £900.00pp / $1,450.00pp
Tilbury (UK) to Freemantle (Australia):  Tilbury(UK), Hamburg (Germany), Rotterdam (Netherlands) Le Havre (France), Genoa (Italy), Damietta (Egypt), Suez Canal , Fremantle (Australia), Melbourne (Australia), Sydney (Australia) Adelaide (Australia), Singapore (Singapore), Port Kelang (Malaysia), Chennai (India), Colombo (Sri Lanka), Cochin (India), Suez Canal, Damietta (Egypt), Malta (Malta), Genoa (Italy), Tilbury (UK)
Duration: 36 days
Cost: Around £2900.00pp / $4,700.00pp
More possible routes and guide prices include:
Tilbury (UK) – Montevideo (Uruguay ) roundtrip  32 nights  £1630.00pp/ $2,600.00pp
Other stops include: Hamburg, Antwerp, Le Havre, Dakar, Rio De Janeiro, Santos, Montevideo
Tilbury (UK) – Rio de Janeiro (Brazil) roundtrip. 28 nights £1350.00pp / $2,200.00pp
Other stops include: Antwerp, Dakar, Rio De Janeiro, Santos, Paranagua
Felixstowe (UK) – New York (USA) round trip. 12 nights  £1230.00pp / $2,000.00pp
Other stops include: Antwerp (Belgium), Le Havre (France), New York (USA), Boston (USA), Philadelphia (USA), Baltimore (USA), Norfolk (USA), Bremerhaven (Germany).
New York (USA) – Mumbai (India) roundtrip. 33 nights £2970pp / $4,879.00pp
Other stops include: Norfolk (USA), Savannah (USA), Charleston (USA), Port Said (Egypt), Jeddah (Saudi Arabia), Port Quasim (Pakistan) , Nhava Sheva (India), Mundra (India), Damietta (Egypt),
Genoa (Italy) – Singapore (Singapore) roundtrip. 31 nights £2790.00pp / $4,800.00pp
Other stops include: La Spezia (Italy), Al Geciras (Spain), Tanger (Moroco), Malta (Malta), Suez Canal, Port Said (Egypt), Port Kelang (Port Kelang), Xiamen (China), Shanghai (China), Ningbo (China), Yantian (China), Nansha (China), Tangjung Pelepas (Malaysia), Jeddah (Saudi Arabia), Port Said (Egypt)
Tilbury (UK) – Port of Spain (Trinidad and Tobago) roundtrip. 15 nights £1340.00pp / $1,980.00pp
Other stops include: Rouen (France), Le Havre (France), Philipsburg (Netherlands Antilles), Degrad Des Cannes (French Guiana), Belem (Brazil), Fortaleza (Brazil), Natal (Brazil), Algeciras (Brazil), Rotterdam (Netherlands)

Delays
Are you on a tight schedule? One thing to bear in mind is that your travel itinerary will need to be flexible as departure and arrival times of the ship can easily change because of things like cargo loading delays or port staff strikes. For me this uncertainty just adds to the adventure, but for others it might be a real deal breaker.
Want to know more?
As someone who has flown by plane and stayed in resort style accommodation I can understand that container ship travel isn't for everyone. However, if you are considering a new type of adventure which is a little off the beaten track then this just might be a once in a lifetime trip you will never forget – in a good way.
Still interested? Here is a comprehensive list of content on the web to help you make the trip happen!
Shipping lines offering information pages

 
Grimaldi Holidays. Privately owned Italian shipping company with routes in Europe, South America and West Africa   
CMA CGM. French container transportation company offering worldwide routes.
DFDS freight. Danish shipping company servicing UK, Belgium, Germany and Scandinavia
Hamburg Süd  Privately owned German company with worldwide routes.
UK cargo container ship travel agents
USA cargo container ship travel agents
Others agencies
Maritime Cruises. Stockholm
Freighter Expeditions. Australia
Slow Travel. Germany
The Cruise People. Canada
Internaves. Germany
Freighter Travel. New Zealand
Before booking travel it's recommended to check if you are protected by the relevant traveller regulatory organizations such as ABTA.
News articles

A freight Way to Travel. Guardian
Hate Crowds? Try a Cruise (well container ship) where you're the only passenger. Daily Mail
A freight adventure: Sailing the oceans on a container ship. The Times
Container ships, an offbeat cruising option. NBC News
The freight escape. The Independent
More resources to discover
Palins Travels. Read excerpts from the Michael Palin 'Around the world in 80 days' TV series when he sailed on the Leda Maersk freighter.
Travel aboard the worlds largest container ship, Marco Polo. Press release from CMA CGM about sailing on the largest container ship in the world.
Container ship information. If you want encyclopedia facts about container ships then check this useful page from Wikepedia.
Llyods loading list. One of the oldest journals on shipping and includes worldwide shipping schedules.
Podcasts  
Rebecca Hall is a British woman living in Greece. In this 2 part podcast hear the before and after story of her container ship journey from Greece to Hong Kong.
Winging it, travelling by cargo ship. NPR (Part 1)
Traveling by cargo, with lots of reading time. NPR (Part 2)
Books
Running away to sea, Round the World on a Tramp Freighter. Geroge Featherling. An extremely readable account of one man's 30,000 nautical mile journey from Europe via the Panama Canal to the Pacific and back through a range of exotic locations. The book does a good job of detailing his life on board, the good and the bad moments.
Time Zones, Containers and Three Square Meals a Day, Maria Staal. As the authors book description says, 'deadly pirate attacks and a near collision with an oil tanker are just two of the dangers faced by the crews of today's container ships'. A good read!
Around the World by Freighter, Bob Hartley. A book written with good humour that will give you an inside view of travelling on a freight ship.
Accounts to follow on Twitter
Flightless Travel (community dedicated to non-air travel): @Flightlesstrav
The Cruise People (freight ship travel agency): @CruisePeopleLtd                             
CMA CGM (shipping line): @CMA_CGM_Group
Maersk (shipping line): @Maersk
Do you know of any other resources? Feel free to add in the comments below.