Leading the market with specialist container innovation.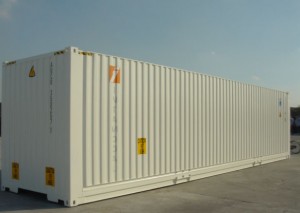 Adaptainer is a leader in the specialist container and associated transportation business. Our background includes helping to pioneer the supply of lightweight, high strength 45ft pallet wide containers which have since assisted in a modal shift of European transport from trailers to containers.
Our teams knowledge, experience and commitment to specialist container innovation mean that we have the ability to supply you with specialist solutions that exactly meet your storage and transportation needs.
Together with providing common specialist containers for sale we have also undertaken custom production runs of flatracks, open top's, palletwides, chemical storage containers, tank containers and refrigerated containers. As a result of this experience we have the ability to manage projects for you from prototype building through to batch delivery, all to meet your precise container specification requirements together with in-house livery.
Types of specialist containers:
Refrigerated containers: Also known as reefers, refrigerated containers or reefers are used for storing and transporting cargo at specific temperatures between -25°C and +25°C. Each of our refrigerated containers can be modified in any way to meet your requirements.
Flatracks: An ideal solution for transporting oversized / out of gauge cargo that cannot be loaded into a standard shipping container is the use of flatrack containers. We can supply you with all sizes of flatrack containers including 20ft, 40ft and 45ft flatracks with either fixed end or collapsible.
Palletwides:45ft palletwides are able to carry the same 33 euro pallet capacity as road trailers but can also be transported via ships or trains and are able to be handled at ports / terminals also.
Chemical storage containers: Chemical storage units are steel floored units with internal bund plates to ensure liquids will not escape in the event of accidental spillage. This type of unit is fitted with drainage taps externally so that any spilt liquids can be easily drained off.
Open top containers: Open top containers are used for oversized cargo that cannot be loaded via the doors and where overhead loading is the only feasible option. The containers are fitted with shipping grade tarpaulin to ensure the goods are not exposed to the elements during transit.
Tank container: Tank containers are built for transporting both quantities of non-hazardous and hazardous cargo such as chemicals, liquids, gasses and powder.
Full side access boxes: 20ft full side access units have many benefits and are ideal to load large or difficult cargo such as cars since in addition to end door access the entire side of the container fully opens.
Tunnel units:This type of unit provides access from both ends. 20' and 40' tunnel units are identical to standard shipping boxes other than doors are manufactured to both ends for easier access to cargo.
Do you require container conversion? View our container conversions page.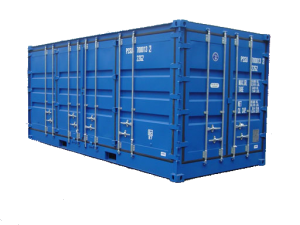 Maximum features at a price to fit your budget.
From time to time you may require highly specialised services that are a 'one off'. We pride ourselves on having the flexibility and network of expertise to deliver a solution for almost any storage or transportation requirement. Adaptainer tailor all modifications after consultation with clients to ensure that we provide the maximum features required at the minimum price to meet your budget. Projects are our speciality – no matter how small or large.
Consultation may include such aspects as:
Whether your plant equipment security housing is provided with adequate noise and air-flow control. We can custom engineer all aspects including acoustic, ventilation, fire rating and certification, the range is almost endless. Services also include arranging deliveries and other types of logistics.
Adaptainer's experience and knowledge of the specialist container market means that we are very well positioned to provide both consultancy and specialist container equipment for sale and hire.
Learn more about how we can help you with your container needs today.